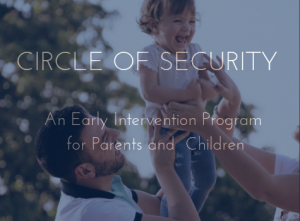 At times all parents feel lost or without a clue about what our child might need from us. Imagine what it might feel like if you were able to make sense of what your child was really asking from you. The Circle of Security® Parenting™ program is based on decades of research about how secure parent-child relationships can be supported and strengthened.
Using the COS-P model developed by the Circle of Security originators, our trained Facilitators work with parents and care-givers to help them to:
•   Understand their child's emotional world by learning to read emotional needs
•   Support their child's ability to successfully manage emotions
•   Enhance the development of their child's self esteem
•   Honour the innate wisdom and desire for their child to be secure
The Circle Of Security Parenting Program
The Circle of Security Program is built on decades of research.  The creators of the program delivered it over many years with great success to their participants before making it available globally for everyone to benefit from. 
This program takes attachment theory and breaks it down into its simplest form for any participant to apply to their own relationship with children.  Whilst the program primarily focuses on applying Circle of Security to newborns until age 8, the tools learnt can be applied to children of all ages.   
This program will help give you the tools to understand what your child needs from you.  By understanding what your child needs, you will learn how better to respond to your child, therefore building a secure relationship. 
This program is not about being the perfect parent.  It's a program that we all can learn from, no matter who you are.  The program will give you a simple model to use as a guide to help you apply the importance of attachment theory into your life.   
Who is this program for?
EVERYONE
This program is for anyone who has children in their lives:  parents, caregivers, grandparents, aunts, uncles, grandparents and educators etc. 
No matter the age of the child/ren, or the relationship you have with the child/ren The Circle of Security Parenting Program will give you life changing skills.
Child Care Centres who are wishing to introduce or better strengthen a Primary Care Giving model would hugely benefit from booking into this program for their staff.
Mums groups might like to organise this for their group.  We are more than happy to make this work for you and happy to have babies attend the session.
Why Choose Transpiral?
Our facilitator is available to deliver this program to suit your availability and needs.  We offer an affordable package to deliver this program one on one with our clients.  However we also welcome you to bring in friends or family to join us on this learning journey at no extra cost. 
Traditionally The Circle of Security Parenting Program is divided into 8 x 1.5 hour sessions.  However we understand that this does not meet everyone's needs.  Therefore we are happy to deliver the 12 hour package in sessions that meet your needs. 
Packages Include:
2 x 6 hour sessions
3 x 4 hour sessions 
4 x 3 hour sessions
We offer flexibility around where and when you would like to complete this program.  We will bend over backwards to make ourselves available to complete this program to suit your needs.  Weekdays, evenings, weekends, whatever your needs and availability are, we will be there to support you in gaining valuable and life changing learning about attachment theory and some very simple and effective ways you can incorporate it into your life.
An important part of the learning process of The Circle of Security Parenting Program is reflection.  Therefore we offer a follow up call after each session to check in and offer a time for reflection. 
We deliver this training onsite in Payneham and Daw Park, however we are open to traveling to venues closer to you.
Contact us today for a quote.