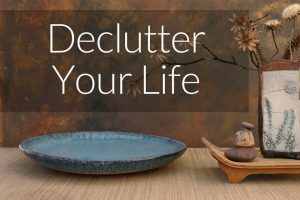 I am loving the current trend of people downsizing, minimising, decluttering and simplifying. Have you noticed it? It's everywhere right now! I suspect it's been amplified by the new year and the promises it brings and the feeling of freshness people are looking for.
I began downsizing many years ago and have had three major downshifts so far. The first was in 2004 when I moved from a massive four bedroom home with two dining areas, two living areas and everything that opened and shut to a small and simple three bedroom home that with one living area that I built. This was meant to be my forever home. This was a well intentioned move, but I took a bad marriage, moved it 300kms away, and built a house and bought a busy seaside hotel in the middle of tourist season – it didn't end well. I had already downsized significantly then and did it again when the marriage ended and I took far less than half of 28 years worth of stuff. I didn't want it, I wasn't attached and was happy to begin again.
After moving to Ghana in West Africa for a year in 2010, I returned home and found my small possessions at that time to be excessive, so I downsized yet again. We live very simply and our home has just enough of everything that we need, and enough of everything that is beautiful and brings us joy. We love to travel so a simple life frees us up to do that. As an aside, we will be downsizing again in 2018 as we plan to move to Bali. I will be spending the next year reducing what we have down to a few boxes to put in storage and we will move with just our suitcases and a few books – well that's the plan anyway.
Downsizing in physical terms is relatively easy and there are plenty of resources and places you can check out here on the wonderful and wise world wide web that can assist you, if you are unsure of where to start. I highly recommend doing it, and there are more benefits to it than I can possibly count, but think about freed up time, energy, money, resources, space, less time cleaning and organising, greater abundance and the list goes on.
Decluttering and downsizing is actually an incredibly inspiring process and once you begin on your physical environment, you may find that you start to seek the same freedom and clarity in other areas of your life. One of the great benefits of decluttering is that you have the space to bring in abundance in every area.
Here are some other ways you can begin to declutter;
Email – check the lists you are subscribed to, are they still useful, do you read the content or just hit trash as soon as it hits your inbox? It's sometimes quicker to delete than unsubscribe, but in the long run, setting aside some time to unsubscribe is a powerful decluttering process. Clean out your inbox – I am down to an inbox of less than 10 and intend to keep it that way. I prefer 0, but I have a few things I like to keep as reminders when I am working on them.
Facebook and Social Media – how many accounts do you have, and how many pages do you follow, like and how many groups are you in? Are your friends people you are aligned with or wish to remain connected to? I recently did a full declutter and it's still a work in progress, but I like my newsfeed to be inspiring and uplifting, and I was in way too many groups. I turn notifications off when I join groups too, as those little red notifications can be so time consuming if they aren't necessary. I also had over 700 saved links in Facebook of posts I was going to read later. I spent some time going through them and am down to 170, my goal is to have less than 20, so every day I clear a few more. I have saved some great stuff, so I didn't want to just delete them all, so step by step I'm getting there.
People – do you spend your time with people who uplift, inspire and bring you joy? Are your relationships serving you? Decluttering relationships can be a very healthy self care strategy. Sometimes you don't need to do anything at all, it just happens all on its own – if you let it.
Money – there are many ways you can declutter to bring money in, but a few simple ones I like are; keep my handbag clear of junk, keep my purse only for money and cards, and clear out old receipts, bits of paper and loyalty cards I'm no longer using. You need to allow the physical for money to flow in, and this is one easy way to make it happen.
There are many other ways you can declutter your life and I will write more in part two. In the meantime, I'd love to hear your favourites, let me know in the comments below if you have some to share, or if you try any of my suggestions.